カレンダー
| S | M | T | W | T | F | S |
| --- | --- | --- | --- | --- | --- | --- |
| | | | | | | 1 |
| 2 | 3 | 4 | 5 | 6 | 7 | 8 |
| 9 | 10 | 11 | 12 | 13 | 14 | 15 |
| 16 | 17 | 18 | 19 | 20 | 21 | 22 |
| 23 | 24 | 25 | 26 | 27 | 28 | 29 |
  プロフィール

  微博
  最新記事
(03/15)
(01/11)
(11/03)
(10/26)
(10/21)
  最新コメント
[01/27 栗叔]
[01/27 栗叔]
[08/21 栗叔]
[01/01 阿栗]
[12/06 阿栗]
[06/20 栗子 ]
[06/20 栗子 ]
[05/10 栗子 ]
[02/25 神]
[02/25 神]
  最新トラックバック
(09/12)
(09/12)
(05/03)
(05/03)
2020/02/17 (Mon)
×
[PR]上記の広告は3ヶ月以上新規記事投稿のないブログに表示されています。新しい記事を書く事で広告が消えます。
2010/11/26 (Fri)
日記
仅仅是因为我买到团购票了,55块包两张电影票+两杯可乐+爆米花什么的便宜太多了吧也。就算我是一家三口一起去,我在买张学生票也还是很便宜。再加之电影院就离我家一个地铁站。不过电影院本身就实在一般,音响开得也超级大,刚好盖掉小孩喧闹的声音,影院内不断有人走动也觉得很烦,不过因为它的座位设置十分垂直,又挡不到屏幕。这样看来还是很威水的影院……
哈利波特7真的就是我唯一看完整过的哈利电影,相反,书倒是全看完的……最后四本还是很欢乐的英文版。这种被剧透完全的电影,也就是因为它便宜才看的。不过也还好看过书,蛇突然出来袭击什么的才会有心理准备……跟twilight一样,看这种看完原著再来看电影就会边看边有"啊……那里是原著很棒的地方你干嘛删了它"的感觉+呐喊,比如7个人变身成哈利以及赫敏跟罗恩的吵架戏原著是欢乐很多的。还有许多小笑话也被删了。不过庆幸的是加了不少新的笑料。
不过最最重点的就是风景吧,看得我总是感叹他们仨怎么能跑到那种地方去,无限山河很美,伦敦街景也很美。这个大概就是我看这个片觉得比较精彩的地方吧~

[0回]
PR
2010/11/23 (Tue)
日記
I hate this strange weather when it said the temperature would drop and it did not, and I thought I did not, which I am about to have a cold just because I read a novel in bed in noon with my arms stretched out. And it had bothered me my P.E. class, which I'm not good at already and went like a mess. Maybe I should just go for some medicine instead of waiting for it to be better by itself, somehow I think it had lost the ability to do some. And it's like going to a fever while I write.

I'm still struggling where to take my German class, new oriental? eic? Well, based on the 4 phone calls I had made this afternoon to eic, I finally have some kind of outline for its class. Bascially, it cost just as much as new oriental, but it had longer period, by that I meant the whole day, not just a half day like N.O., and the biggest part I am struggling with is that the eic class will last 21 days, non-stop. Does the guy who arrange those classes have any idea how it would look like to have 21 consecutive days of class? That would be something that is hardly tolerantable. I am doubtful I could stick to such a class without any skipping classes.
What's more, N.O. has been giving classes for years but with to much jokes to cover up the long period, and I really don't how they would do on German, and from what I have been heard, they have trouble starting a mid level class because there were not enough students. While eic on the other hand, is a rather young institute but with a lot of experience for sending students aboard, and it look like I can study for a longer term because they have classes that are connected to this one.
Maybe I should just talk to someone before I made the final decision.

plz, I don't want to get sick. plz, plz, plz, get better soon, like tonight.....

[0回]
2010/11/22 (Mon)
日記
I have started to wonder whether I should call this the nonsense every day, instead of random entry.
Nothing special happen today.
I managed to wake up by myself after I slept in again and didn't not get late. I am seriously considering I should wake up later so that I can avoid the traffic jam.
And finally today, I did the oral test after waiting one of my partner to came back from volunteer.
I also went to new oriential to see the German class, I have almost decided to go there for German class for the winter holiday.
Ah.....don't know what to write, there's 5 minutes to go......
mmm, holiday. Recently, days have been flyed by. Activities in the weekend have been filling the gap in my boring work days. It's like since last month I have been having all kinds of activities for weekend, things I searched on-line, I saw on microblog, etc.
That's all for today, don't care if it's 15minutes or not.

[0回]
2010/11/21 (Sun)
Random Entry
Sorry to kept all of you waiting for this 004. I was hoping no-one was annoyed by the daily update.
Actually I was quite confused by whether I should go on with this or how. Because the most interesting and exciting part of the day I would certainly write it down in Chinese just like the concert and the food festival these two days before, so that would left this "random entry" thing nothing much to write about, and basically that why I did not write random entry those two days. But finally, after consideration, I have decided that since I have already said I would do it and I have started it with "001" not "1", most importantly I have already feeling some kind of fluency in writing blogs every day, English or Chinese, so this random entry will go on, and just to leave me some break, I would make it four or five times a week like I have said before.( And this is the forth time of the week, I did not break my rules~~~yeah!) Anyone who would like to go on with this rubbish, I would extend all my gratitude to you~
Another thing I am struggling with in recent days is my clothing. I have been taught to be frugal since I was a kid, which made me have a hard time understanding fashion. See, doesn't fashion mean that things which prevalent now may not look good for some time so it keep changing? Then what happen to the clothes you bought it last winter when it was a fashion and it is not now? Actually I haven't figure that out even till now, so my easiest solution is not to wear what is fashion so that I can wear the same clothes every winter.
Therefore I have been said dressing like a kid, asking if my new clothes are from grade school and I have been telling some of my clothes are from grade school, but not the new one. Okay, I admitted it, I am extremely dull on clothing, or any other aspects if you have your own opinion on me, and yes, the clothes I bought yesterday are the same "grade school" style, I need to really intentionally think that I need to buy clothes like a grown-up so that I can look for clothes like a grown-up, which I have been unsuccess to find much till now.
Anyway, I am still having problems with it and thank you if you want to talk to me in person which I prefer not. Let's just ignore it. I am fine with jeans and T-shirts and I am not going to wear a dress to school unless I really have to. Dress are for weekends~~lala~
That's it for today, thank you for your time.

[0回]
2010/11/21 (Sun)
日記
昨晚八点看到这个信息,回到宿舍十点多就成功拉到人一起去了~~~好久没见的老虎~~~放假4个月的就是好啊~~~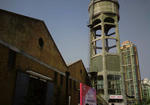 太古仓美食周就当然是在太谷仓搞得啦,八号线沙园站B出口出去大概十多分钟的路程就到了,太谷仓是由就厂房改造出来的,类似红专厂那样,规模小很多,但是很华丽的临江~不过这一切都基本上与美食周没什么关系,因为一般去吃的东西都是在烈日下的摊位,厂房里面不是腊肠之类的就是红酒。本来想在厂房里找吃的,结果拉着老虎转了好久都不见……
这个美食周说实在让我有点失望的,由于招进来的基本上都是广州当地的酒家,所以食品种类在不同摊档重复得挺厉害的,而且人超级多……挤起来挺累的。然后传说中的400多个座位我大概只见到十多个,而且是五六把椅子围着一张桌子那种,所以也就只能坐五六家人。于是我们两个就很华丽的坐草地了,然后挑了个阴凉地方,结果发现是在一个做得很像鸟笼子的红酒瓶前面,结果吃房期间的当了无数次背景……(当然,那个什么地铁站到现场之间的穿梭巴士就更没见到了……)
不过好好找一下还是能见到好吃的~~~我找到的是8块钱的羊肉酱意粉,那个酱好好吃~~还有就是5块钱三件的红豆糕,满满当当的红豆~~>///< 反正正常的东西基本上都是五块钱上下,当然也有那种做得金黄金黄很诱人的20块钱一只不小的乳鸽,点点点……
逛完美食周,然后做出了很艰难的决定才去了动漫星城,真是相当艰难,鉴于某人的认路程度……
不过跟老虎一起逛发现能买到好多衣服啊~~~看衣服的口味很相似~~买到回家的时候身上只剩5块9了,虽然出去的时候就没有带很多……而且超开心~~见到好久没见的老虎是很开心的~~~~激老虎也是很欢乐的事情~~~XDD虽然后果小严重……QAQ

[0回]